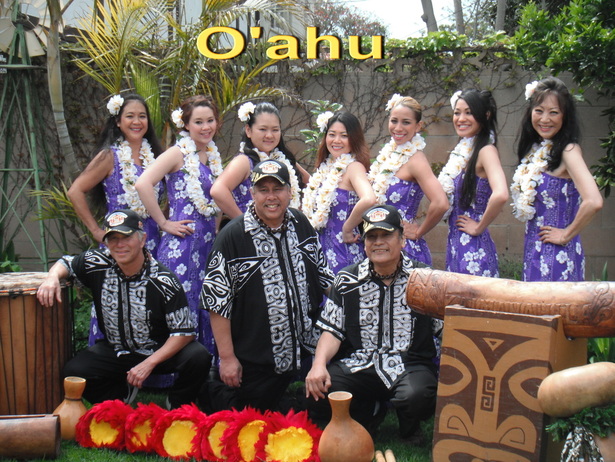 O'ahu means "The Gathering Place"

Auntie Patti, Leilani, Lokelani, Michiko, Tara Malia, Camille Ho'olehuanani, Donna Kapu'uwaialoha
Uncle Roddy Robert Ihilani Kawika
The band "O'ahu" consists of Uncle Roddy Ali'i Kaulana Gregory, lead singer and accomplished musician performing since 1963, Robert Ihilani Agno, wrote #1 hit "Maui", and Kawika Dacoscos, an internationally touring and accomplished musician. Together they have combined experience of 150 years, and form the band "O'ahu" performing a diverse number of original, traditional and contemporary Hawaiian music, and oldies.

All vocalists, their music highlights beautiful and unique styles of harmonies accompanied by playing numerous instruments such as, the ukulele, 12-string guitar, electric guitar, percussions, and electric nylon string and steel string bass guitars.
---
2 minutes various clips of O'ahu

Oahu's medley of dances at San Dimas Ho'olaule'a

5 minutes 30 seconds
"Uncle Roddy" Ali'i Kaulana Gregory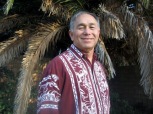 Roddy Ali'i Kaulana Gregory, Uncle Roddy,
is a lead singer and accomplished musician from Palolo Valley, Oahu, performing since 1963.

His taste for Hawaiian music was highly influenced by his late dad, Vasco Gregory, a Hawaiian/Portuguese man from Hilo, Hawaii, and a great Hawaiian musician.

Uncle Roddy is an advocate to promoting Hawaiian music and culture.
---
Robert Ihilani Agno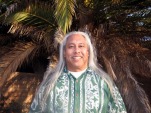 Robert Ihilani Agno
from Palolo Valley, Oahu, was introduced to music by Uncle Roddy and has played with him since the early 1960's.

He later studied under the Cazimero Brothers.

He quickly established himself writing the song "Oh Why Leave" featured in the first Home Grown Album in Hawaii.

Robert is a gifted musician putting a lot of flavor in his singing, guitar, bass, steel-guitar playing.
---
Raynard Kawika Dacoscos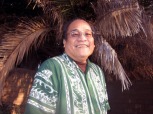 Kawika Dacoscos
comes from the popular and talented Dacoscos family, from Kalihi, Oahu, featured in the hanabuddah days tv show Filipino Fiesta. He began playing music since his early childhood.

He is a multi-talented musician who sings, plays guitar, bass, ukulele, harmonica, percussions and many other instruments.

Kawika displays a wide range of musical styles from jazz to contemporary and traditional Hawaiian.
---